A 500-Year-Old Winery in the Making
As published in M2 profile, April 2022:
'Te Mata Estate might be the oldest wine property in New Zealand, with 125 years of continuous production and an incredible global reputation based on a heritage of award-winning wines, but CEO Nick Buck isn't living in the past.
He shares with us his vision for the future of the company that has been in his family for over 40 years, his lessons on leadership, the difference between being busy and being productive, and why profit isn't always a good measure of business success.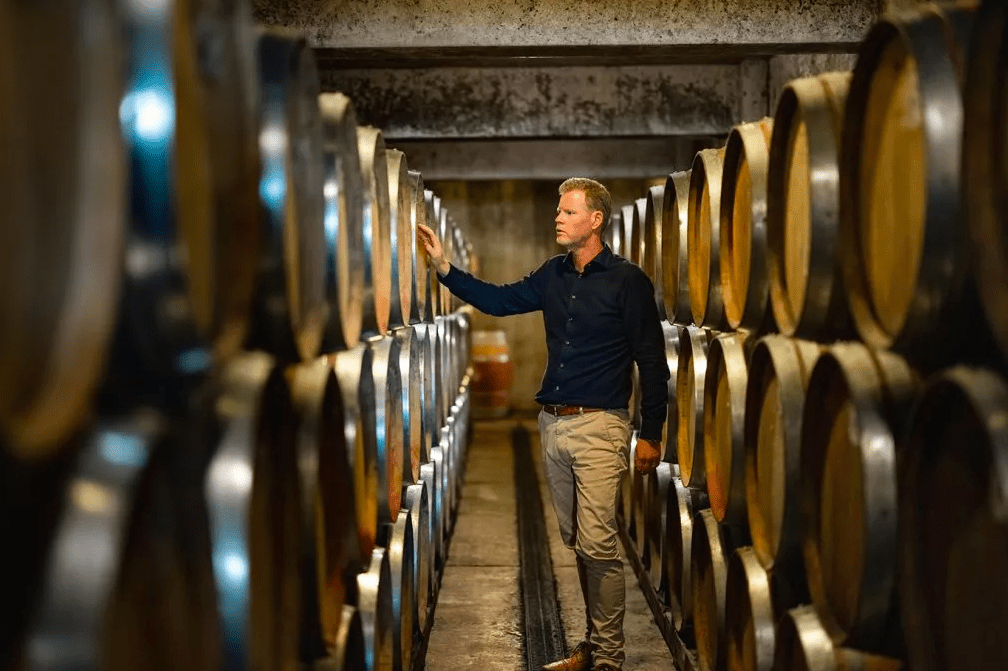 If we look at your start, shouldn't you be in banking now? Shouldn't you be on Wall Street? What happened?
Well, it's a good way of putting it. Certainly all the guys I was at university with all ended up in the financial field. That's what I studied at university.
I was born in Wellington in 1970. My parents bought Te Mata in 1974, but for the first four years, it was leased out and, in the meantime, my parents moved to Auckland and my father ran what's now Glengarry's Victoria Park store. My older brother and I used to play in the wine shop and we'd play at selling wine to each other. We grew up around wine.
When I went to Massey University, I started out as an accounting major, which was a complete mistake, it was far, far too dull. I moved into finance because it was related to it, but it was a bit easier than accountancy and a bit more fun.
The whole time I was at Massey, I was working in the wine industry. I was working at Liquorland on the weekends. I worked for New Zealand Wines and Spirits, at night and on the weekends in the warehouse. And then I'd spend my summers coming home and working in the vineyards.
When I finished university, I decided to go and do 'the OE' that all the Kiwi kids did when they graduated. I went to London and got a job in the wine business in the UK for an import and distributor. There was a huge amount of turmoil in the UK wine industry in the early nineties and the company that I was working for was very aggressive, very fast growing. They swallowed up about three companies in the space of about two and a half years, each one successively larger than the one before it and bit off more than they could chew when they took on one of these companies.
There were receivers appointed and they took a look at my background and asked me to help out with the receivership side of things. I ended up staying on working for them for a period of time, helping wind the business up.
That company's largest customer was this big restaurant group that had 160 restaurants across the UK. They decided that they wanted to start their own wine importation and distribution side of it and approached me to do that for them. In the space of a week, I became the biggest duty paid wine buyer in the UK. I was travelling all around Europe, buying wine for them. It was fantastic. It was just like I was a kid in a candy shop.
But again, they were a very fast-moving company. After about four years working for them, they got gobbled up by a huge brewery company in the UK. That brewery company had 75,000 staff and so they had entire divisions of people doing what I was doing. I could see that my role was going to be subsumed by this company and either it wouldn't exist or wouldn't be much fun. By that time, I'd been living in the UK for a long time — I was a bit over London by this stage — and I wanted to get back to wine production.
I went and worked for a year at Château Margaux in Bordeaux, which is one of the first growths in Bordeaux and is one of the leading wine properties in the world. At that time it was being run by a guy called Paul Pontallier, who was a remarkable man. They were the first of the first really. I spent nearly a year at Château Margaux, living and working on the property.
I came back to New Zealand and back into the family business in 2000, at which point I was 30 years old and looking to settle down a little bit more. I thought:'I've done well in this wine game long enough; I'd've been crazy not to be back at Te Mata with the family'.
Can you break down some of the skills or insights that you brought with you as a thirty-year-old getting back into the family business?
That time in London, with the distributors, I learned a lot about the international wine trade. Here in New Zealand, we don't have the degree of exposure to the old-world of European producers that obviously they enjoy in London. London is a very international wine trading hub, has been for centuries. Wine is becoming so democratised. As it got better, the low end of the wine business got better than it was. It's more reliable, it's more appealing. You've seen the rise of the multisite retailers, multinational retailers and grocery chains and the like. The bottom end of wine has gotten broader around the world and that's opened up wine in a way that it never used to, right across the Western world and increasingly into the developing economies of the world as well.
In parallel with that, and off the back of it, as wine has become more accessible and part of the everyday in these places, you've seen the fine wine market become way broader in its scope. In a place like London, that was a fine wine trading centre, but historically it used to service the upper class in the UK. When I was there in the early nineties, you saw the beginnings of the extension out from that. It was fascinating to see.
The other aspect that I learned from those experience is that you learn what not to do in terms of running a business. The wine businesses are incredibly cash hungry. It's a very capital-intensive industry, in terms of the cost of holding stock, particularly when you're on the production side of things; you're also holding significant wine stocks. There are not many businesses where you would be holding two or three years' worth of inventory at any one time. It's something that people don't factor in sufficiently.